International experience, a huge number of constructed facilities, reliable cooperation ...
Partition walls in the dry construction system provide exceptional practical solutions in construction. They represent a sandwich of gypsum cardboard plates on a metal substructure. Wall filling contains the necessary thermal insulation, as well as installations.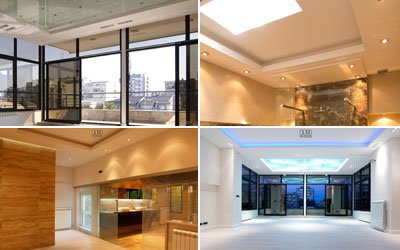 Wall claddings of gypsum cardboard are installed on an aluminum substructure or on more demanding occasions, on glue, so called dry plastering. If necessary, the existing walls, along with the flattening, also get better insulation properties.

Gypsum works are an indispensable part of every adaptation of sloping roofs, providing high standards of fire resistance, covering the terrace, bathrooms, and so on. Contemporary materials such as ridurit boards, aquapanel etc. are used with esteem of the prescribed standards for their installation.

Lowered ceilings are made with gypsum cardboard plates on aluminium substructure or in the AMF raster system, although there is an increasing number of modern solutions and innovative materials that conquer the market.


With high-quality made partition walls you get a perfectly flat surface with strong mechanical characteristics. The principle of dry construction allow you to apply smooth coat, paint, inlay tiles or wallpapers immediately after walls are set-up.

Gypsum is a mineral, in its composition, calcium sulphate. Its advantage is that it is easily to process. The good side is that it is cheap and the most important role is its hygroscopicity - it absorbs water. Any shape possible can be made from gypsum.